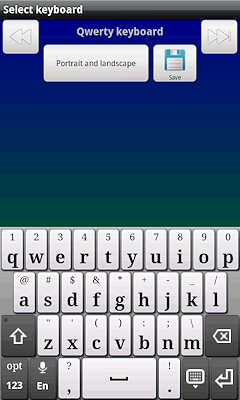 Jbak Keyboard, Android,

version 1.2.146

This is tiny, fast and powerfull soft keyboard for Android.
Application not contains vocabulary, T9, swype at this moment. If you need it - just use another keyboard.
Android market link: https://market.android.com/details?id=com.jbak.JbakKeyboard
If you have reports or suggestions - send it by e-mail:jbak1979@gmail.com , or write comment on Android market
Installation
After installation you need make these steps:
Go to System settings >Language and keyboard, enable Jbak Keyboard.
Press OK on alert about stealing codes and passwords, see below.
In any input field press Input method > Jbak Keyboard.
Supported languages
English
Russian
Ukrainian
Belorussian
Deutch (German)
French
Italian
With custom keyboards can be supported another languages
Usage
Each letter key of keyboard contains additional symbol, which avaliable by long-press of this key
Long-press of Shift key displays special keyboard for text editing. With this keyboard you can easy move cursol, select text, copy, paste an cut
Long-press of Enter displays keyboard for input emoticons.
Long-press of 123 opens menu, where avaliable main settings, multi clipboard and templates. Multi clipboard stores 20 last copied text for inserting into text fields. Templates can contains any text for quick inserting into text fields and some special instructions for operations with selection

Keyboard settings
For application settings - open system setting, Language and keyboard, Jbak Keyboard settings. Or you can make long-press of key 123 on keyboard for main menu, which contains needed item.

Keyboard conatins many settings. There are:
Key height, different for portrait and landscape, with preview;
List of languages for switching;
Keyboard for all languages;
Fonts for labels on keys
Skin, one of 6 integrated skins
Font for fullscreen editor;
Vibro for short and long press, and perions in miliseconds;
Stetes of Shift key (for example, you can disable CapsLock);
Auto case changing and insertings spaces
With support of custom keyboards and skins, you can also make your own keyboard or theme
Can keyboard steal passwords?
No! Never!

=====
With best regards,
Juriy Bakunin aka JBAK